Our Mission
We are committed to enhancing self-regulation capacity in children, youth, and the adults that support them, by offering learning and engagement with Take 5! Self-Reg Asset-Building.
Our Vision
A future in which all children, youth, and adults can THRIVE, encouraged and supported to grow into their potential and live their purpose ... even when life brings experiences of adversity and trauma.
What We Offer

Take 5! Institute offers professional development and capacity-building support for professionals that work with children, youth and families, including classroom teachers, educational assistants, counselors and administrators, SEL (social & emotional learning) coordinators, child and youth workers, mental health professionals, and social service providers. Take 5! also offers effective skill-building tools for professionals supporting youth who are engaged with the justice system.
Take 5! integrates important insights from neuroscience, psychology and social & emotional learning, offering a hands-on practical approach to SEL and self-regulation that is easy to learn and easy to teach. Professional development training is supplemented by a range of take-away resources that help you launch and sustain self-reg asset-building activities in organizational and other community settings. For further information, see Professional Development.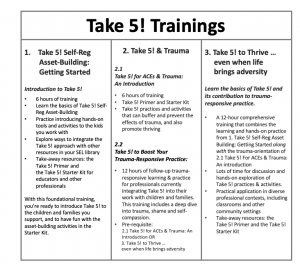 TAKE 5! TRAINING ON ZOOM:                                                                                                                                                                         All introductory workshops and professional development training sessions are offered via ZOOM. Until such time as we can once again gather in person, on-line training will continue to serve educators and other professionals who want to learn more about Take 5! and how it can support and enhance their work with children, youth, and families.
"This was by far the most engaging and valuable conference I have attended via Zoom. The flow of the conference, shifting delivery, large group feedback and breakout rooms made it easy to be on Zoom for 2 days. There was always a lot of time to taste, examine and experience the tools and it did not feel rushed or like it was dragging on. The topic is first and forefront in the work that I do with children and families. The information provided pulled together many helpful resources and approaches and it reignited the passion within myself and has refocused my energy to 'Knowing, Growing and Flowing' the 5 assets with the individuals I work with. I appreciate walking away with many new tools and a user-friendly framework to reference."
Participant in the Take 5! to Thrive on-line training session, sponsored by NANA in Prince George, British Columbia