Self-regulation Shapes Lives
The ability to self-regulate is an essential human capacity. To thrive, children of all ages need a solid foundation of self-reg assets. And so do the adults that support them.
Self-reg skills help each of us to meet life's many challenges and to thrive … even in the difficult moments. Study after study confirms that self-regulation impacts learning, mental wellness, positive relationships and lifelong development.
Growing their capacity for self-regulation, children can monitor and modify their energy, emotions, thoughts, focus & attention, and their relationships with others. Youth, too, are better prepared to respond to the stressors of daily life with less anxiety, more resourcefulness and resilience. And healthy self-reg skills are especially critical when families are experiencing disruption & change …  navigating conflict, separation, divorce or custody disputes, for example. In these demanding situations, self-reg skills often need a bit of a boost.
Self-regulation really does shape lives; from birth, we begin to learn the self-reg skills that will carry us through life. Self-soothing. Self-awareness. Emotion regulation. Distress tolerance. Perspective-taking. Flexible thinking. Resilience. And more.
These are the self-reg skills that foster thriving. And it's the very same capacities that help us to get through the hard times, to remain calm in the face of anxiety and stress, for example. To navigate the challenge with self-awareness and self-acceptance. To maintain healthy boundaries. To override those less-than-healthy impulses. To see the situation through the other's eyes, and not just our own. To reach deep for insight when, really, we're tempted to just get mad.
Dysregulation Also Shapes Lives
We all feel anxiety and stress from time to time. But in times of crisis, that stress can become toxic. Toxic stress has long term impacts on our physical and mental health, and on our relationships. And, of course, it affects the entire family.
These experiences of dysregulation have long-term implications. When children encounter family conflict or breakdown, for example, the events might last only a few months. But, when children experience high levels of stress and anxiety, the impact can last much longer, and may even contribute to learning challenges, mental health issues, interpersonal problems, and disrupted development.
Dysregulation, then, is not a recipe for thriving. But, by strengthening our self-regulation capacities, we and the young people we support are better equipped to meet the present moment. And the future.
Take 5! Self-Reg Asset-Building: Creating the Social-Emotional Health that Everyone Needs
 Here's the good news. Self-reg skills can be learned and grown – no matter how old we are, or how difficult life has been. It's never too late. It just takes practice.
Take 5! is a practical asset-oriented framework for growing self-regulation capacities in children, youth, and adults alike. It's a strengths-based approach that integrates five essential building blocks for self-regulation:
BE HERE                                 Mindful Awareness Assets
BE WITH                                 Interpersonal Effectiveness Assets
BE CALM                                 Emotion Regulation Assets
BE STRONG                           Resilience & Thriving Assets
BE CHANGE                          Connectedness & Contribution Assets
The Take 5! Self-Reg Asset-Building framework includes factors that are known to be therapeutic, while fostering resilience and healthy development in all young people, including youth-at-risk.[1] It supports the work of individuals and organizations that work with children, youth and families in diverse settings, including classroom teachers, counselors and administrators, child and youth workers, mental health professionals, and social service providers, as well as those supporting youth who are engaged with the justice system.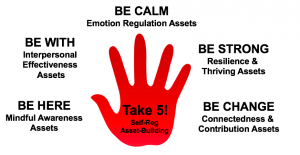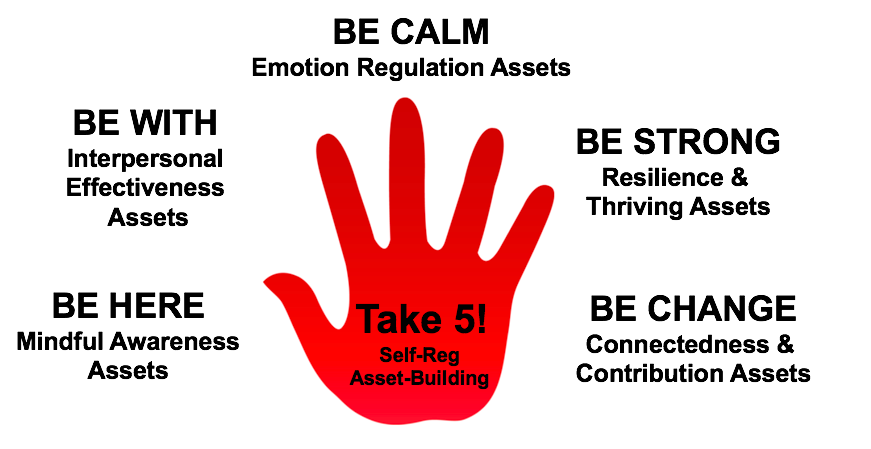 [1] Take 5! Self-Reg Asset-Building is informed by the principles and practices of Dialectical Behavior Therapy; it also integrates research and evidence-based practice in neuroscience, positive child & youth development, trauma and attachment, adult development, and mindfulness research in education.
Take 5! Key Questions & Key Messages provides a good introduction to Take 5!
Take 5! ... So All Kids Can Thrive! goes a little deeper.
And you can learn more about the Take 5! approach here.